Graphic designers use software such as Adobe Photoshop and Adobe Illustrator to produce professional-looking images. This software allows them to edit photos and combine text and other items into a single image. If you want to become a designer you might also want to consider picking up some art skills.
What is your favorite type of design?
Graphic Designers are responsible for producing all kinds of visual material, including logos, brochures, advertisements, books, packaging, websites, catalogs, magazines, newspapers, newsletters, product packages, flyers, posters, invitations, wedding programs, and more. They create these materials using computer graphics software such as Adobe Photoshop or Adobe Illustrator.
How did you get started in graphic design?
I began my career in graphic design while attending college at the University of Central Florida. I was an English major but I took a lot of classes that were related to creative writing and graphic design. In addition to taking those classes, I worked part-time at a local business designing book covers and promotional products. After graduating from UCF with a Bachelor's degree in Communication Arts, I continued working on graphic design full-time. I have been doing this
Do you still work on designs?
Yes! My job requires me to be involved with various projects every day. There isn't a particular project that I'm assigned to do for any one client. It varies depending on what they need when it comes to creating marketing materials and advertising campaigns. Sometimes, I will just spend hours researching different ideas and concepts. Other times, I'll sit down with clients to come up with new ways of presenting their brands. Every once in a while, I'll even get some free time to experiment with my style.
What are some of the challenges of being a freelance designer?
Being freelance means having no set schedule. You can go home after work and not know if you'll have another assignment or not until the next morning. The upside to this situation is that you don't have to worry about getting paid late or missing out on your paycheck because you're too busy. However, there is always the possibility of losing your income due to circumstances beyond your control. When that happens, you could end up without money for weeks or months. That said, the freelancing doesn't mean you have to live on minimum wage. Most people who decide to pursue freelance careers find employment through agencies. These firms often offer higher hourly rates than most freelancers would receive.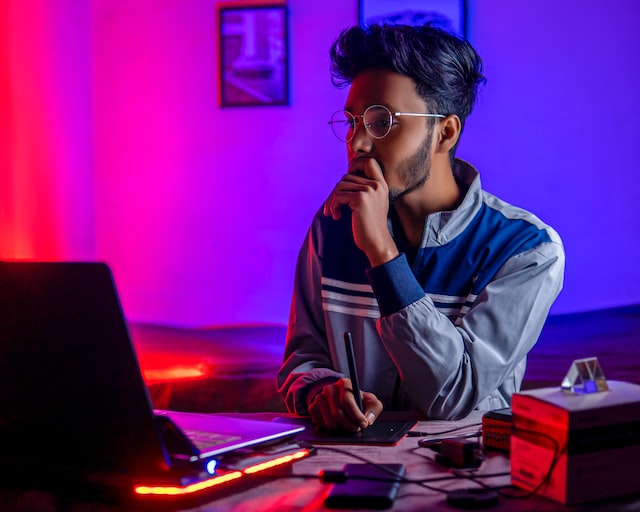 What advice would you give someone considering pursuing a career in graphic design?
Do something you love! Everyone has their specialty and talents. One person may excel at music composition, while another may be better at web development. Whatever it is that you enjoy doing, take advantage of every opportunity you can get to practice and hone your abilities.
Is there anything else you'd like our readers to know?
My goal is to help people achieve their dreams. If I can provide them with the tools necessary to succeed, then great! If not, I want them to understand that their efforts won't necessarily result in positive outcomes.
Conclusion
Graphic Designers make a difference in the world by providing a variety of services that help businesses grow. Whether you are looking to start your own business or simply improve your current skills, finding a good fit can make all the difference.